21 Apr 2020
3 Ways to Ensure the Effectiveness of Your Video Marketing!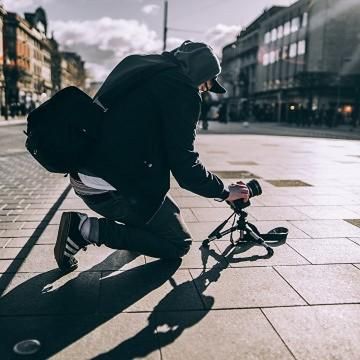 Video has become an integral part of virtually all marketing campaigns. With the ever-increasing rise of the digital age, this really comes as no surprise; from influencers on social media to those annoying mid-playlist advertisements on Youtube, video has quickly established itself as a firm favourite among modern-day marketers.
We've all read hundreds of articles which outline the effectiveness of visuals when presenting a new product, service or technology, so the potential power of video is almost immeasurable! But there are plenty of campaigns out there which really haven't taken full advantage of this potential, with brands producing clips which are more worthy of a 'good effort' sticker than a BAFTA, not really portraying any message at all, let alone the one which was intended!
Here are 3 ways you can make sure your video marketing campaigns are destined for the red carpet, rather than the dustbin, and they pretty much go hand-in-hand.

Step 1 - Identify who you're aiming your video at and what you want it to achieve!
This may sound obvious, but it's important to understand that 1 size does NOT fit all when it comes to creating an effective video which brings results. You have to tailor the approach, tone and scope of your video to provide perfectly for the intended demographic.
Are you trying to attract millennials? Should your video use humour or is the topic sensitive? What are the social and cultural interests of your intended audience? All of these things need to be considered to the fullest if your videos are to prove successful.

Step 2 - Be smart when choosing who is going to produce your video content.
Once you've identified your target demographic and objectives, it is essential to find the right video producer to help you reach them. The time you spend on researching producers will pay off tenfold once you release your content, and it hits all the right sweet spots with your audience.
An interview specialist probably isn't going to be the best choice to demonstrate the terror of a new scare attraction, while an agency specialising solely in extreme sports films probably aren't going to convey a charity campaign in a way that the intended audience will appreciate. The key? Don't be won over purely on beautiful visuals!

Step 3 - Don't limit yourself to a single type of video!
Once you've figured out which forms of video your agency can provide, take advantage of as many as possible! Would you rather watch a single product demonstration with a voice-over, or a demonstration accompanied by a motion infographic of the product's inner workings, a brief interview with the designer and even the results it can produce?
A variation of visuals will always be memorable, and when it comes to marketing content, memorable is exactly what we're after! So, now you can make sure yours is memorable for all the right reasons.