Meet the Influencer: Scott Brinker
Martech is the word on every marketer's lips this year; from immersive technologies to IoT and even augmented reality, integrating technology into any marketing strategy seems to be the only way forward in 2018. Wouldn't it be a dream to get a Q&A with a Martech Don?


For this year's Marketing Technology Expo, we are extremely excited to be partnered with Digital Doughnut, who will be proudly hosting their very own keynote speakers at MTEX 2018 to tackle this complex landscape; addressing the latest technologies, advancements and strategies, all of which you need to stay at the forefront of the ever-evolving world of digital marketing.


However, these aren't just any Keynotes; think The Avengers for marketing.....not easy I know, so we've decided to bring you an exciting little insight into who you can expect to hear from at the show…..


First up, we are delighted to announce that THE Scott Brinker - recently ranked the 3rd most influential marketer in the world by Forbes - will be taking the Digital Doughnut stage at 12:15 pm on day one.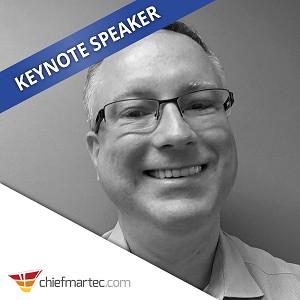 As we're sure you know, Scott writes the Chief Marketing Technologist blog chiefmartec.com, where he has tracked the rise of marketing technology, and the profession of marketing technologists, for 10 years. He is the Program Chair of the MarTech conference and Author of the book Hacking Marketing.


Scott also serves as the VP of Platform Ecosystem at HubSpot, helping to grow and nurture the company's community of technology partners. Previously, he was the co-founder and CTO of ion interactive, a pioneer of interactive content marketing software to many of the world's leading brands. Scott has had articles published in Advertising Age, Adweek, Harvard Business Review, and TechCrunch.


At the show, Scott's seminar 'A Fireside Chat on the Evolution of Marketing Technology', will take the form of an intimate Q&A, and will discuss and bring some clarity to the evolution of the increasingly-confusing marketing technology landscape, and how he sees it evolving.


Scott will be in conversation with former New Media Age Editor, Michael Nutley, and Digital Doughnut Founder, John Horsley - who will contribute insights based on his extensive experience working for a range of technology companies and running the world's largest community of marketers.


As opening day draws closer and closer, we will be revealing even more industry icons that will be taking centre stage at MTEX. Stay tuned, and who knows, one of our phenomenal speakers could be talking about that area of marketing tech you need to know more about, in order to transform yourself into a marketing force to be reckoned with!